GRUMMAN TIGER, 1991 (AMERICAN GENERAL AG5B) N28KW
Sold Jan 2002. But there is another AGAC for sale HERE.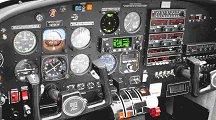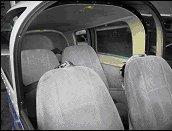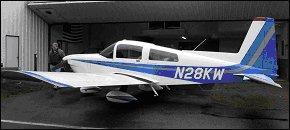 1380 TTAF AND ENGINE, Full IFR CERT, Second Owner, No Damage History,King Digital, Always Hangared.
Description:
Attractive paint- nearly a "10", Excellent inside and out, beautiful panel, Dynamically Balanced Prop, Electric Primer, Dual Brakes, Shoulder Harness, Rear Seat Vent System, 28volt system, New Battery, New Voltage Regulator, Recent Vacuum Pump, Dual Landing Lights, Map Light, Dome Light, Flush Tail Strobe, Flush Wingtip Strobes, Pitot Heat, Alternate Static Air Source, Engine Analyzer, Slaved HSI, Deluxe External Canopy Cover, Custom Cowl Plugs, Wheel Fairings, Outside GPS Antenna and power cable (Garmin), all logs and manuals. Cruise at 139TAS at 10.8gph! ONE OF THE MOST BEAUTIFUL 90'S TIGER ON THE MARKET TODAY
Special Features:
Electric HSI (King) Slaved to fluxgate compass
LASAR Slick Electronic Ignition
Stormscope: BF Goodrich WX-950 coupled to HSI
Airframe: No Damage History
Engine Specs: Lycoming O-360, 180 HP, powder coat, Excellent Compression in all cylinders
Prop: Fixed Sensenich "cruise prop" (63" pitch), 200 hours since Mattituck dynamic balanced
Interior: Gray Fabric and Carpet. Excellent condition
Exterior: Atractive White and Blue Paint," Like-new" Gloss, Excellent condition
Avionics / Radios: King Silver Crown Digital
KX-165-25 NAV/COM w/VOR/ILS/Converter, and digital radial readout
KX165-34 NAV/COM, (with digital radial readout)
KCS-55A Compass System, Slaved w/KI-525A Ind.w/HSI/ILS,
KMA-24-03 Audio Panel w/Mkr Bcn/Intercom,
KR-87 ADF,
King 229 Dual needle RMI,
WX-950 Goodrich Stormscope coupled to HSI
King KLN-88 Loran with recent data base, coupled to -HSI
KT-76A Transponder
KN-64 DME with Nav1/Nav2 switch
Additional Equipment:
STEC 50 Autopilot, 2-Axis,Alt. hold, coupled to Nav, LORAN and Heading Bug
Shadin Fuel Totalizer coupled to LORAN
LASAR-Slick electronic ignition
Engine Analyzer (EI digital). 4 Cylinder CHT/EGT , OAT and Carb Temp
Bose Series 1 ENR headsets, permanent installation with Bose interface.
Precise Flight Backup Vacuum with low vacuum annunciator
Tanis heater on cylinders and oil pan
Inspection Status: Annual Completed July 2001.
Hangared: at KFOK Westhampton Beach NY
Contact Larry Reinstein, (631)-444-2208, (631) 473-2975, (516)-458-2905, Lawrence.Reinstein@Stonybrook.edu
---
More photos.