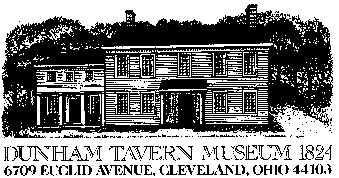 A Cleveland Landmark
Once a stagecoach stop on the old Buffalo-Cleveland-Detroit post road, Dunham Tavern Museum is the oldest building still standing on its original site in Cuyahoga County. Today the property at 6709 Euclid Avenue, part of the MidTown Corridor, is listed in the Register of National Historic Places and is a designated Cleveland Landmark.
Rufus and Jane Pratt Dunham, a young couple from Mansfield, Massachusetts, came to the Western Reserve in 1819. They acquired 13-3/4 acres of land and began to farm. A log cabin served as their home while the north portion of the present structure was built in 1824. Later the main block of the house was added in front of this wing, and it is thought that the west wing was built in 1832.
Rufus Dunham became a tavernkeeper as well as a farmer, and his home served as a social and political center for the area. Contemporary newspaper articles mention turkey shoots and meetings of the Whig Party at the Dunham Tavern.
The Dunhams sold the Tavern in 1853, but it continued to serve the public until 1857. At that time a banker bought it for his home, and thereafter it served as a residence through the era of the rise and decline of the "Euclid Avenue Mansions" and the rapid growth of Cleveland
In the 1930's the Tavern served as studio space for a group of WPA artists and print-makers. Mr. A. Donald Gray, a landscape architect who had his office in the Taproom, was instrumental in preserving the site. The Society of Collectors, organized in the early 1930's, became interested in the Tavern and eventually undertook to maintain and operate Dunham Tavern as a museum. They took over this responsibility in 1941 and once again the Tavern was open to the public, but now as a living museum.
Inside are many fascinating items of early Americana. There is a formal 18th Century parlor showing the type of room familiar to early Western Reserve settlers from New England. The original Taproom preserves the atmosphere of such an 1832 meeting place. Several rooms are furnished with 19th Century Ohio antiques.
A visit to the Dunham Tavern Museum can offer fresh insights into lifestyles of the early Ohio settler and traveler. The Dunham Tavern Museum is a nonprofit educational corporation supported by gifts from individuals, foundations, and corporation and from admissions to the museum and museum sponsored events. Please join our membership and support Cleveland's oldest historic landmark still on its original foundation.
Located on the North side of Euclid Avenue between the Cleveland Clinic and Cleveland State University.

Dunham Tavern Museum
6709 Euclid Avenue
Cleveland, OH 44103

Tours on Wednesday and Sunday 1:00 to 4:00 p.m.
Group tours by appointment call 431-1060
Nominal admission charge Adults $2.00 Children $1.00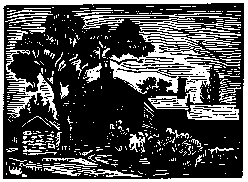 Dunham Tavern, Kalman Kubinyi. Linoleum Block Illustration The Tavern in 1932